Welcome to the Witchcraft Shop Online Catalogue
All the great stuff you can get in our Glastonbury (UK) premises. Plus, here online, an even bigger range for you, including quality and hand-crafted goods, and many items and special offers exclusive to online customers.

In response to popular demand we are now running correspondence courses and non-residential workshops in Basic and Advanced Magical Practice and many other subjects.

All prices are in POUNDS STERLING - please remember this when you order! Dollar and Euro prices displayed are an approximate guide only - your Card company will convert the amount for you
We now accept all major Credit cards (including Amex) and Paypal
We Ship EVERYTHING worldwide! However - please understand that some items are very heavy - UK postage charges are calculated by the system, so additional charges may be required, but for overseas shipping we will always discuss costs with you before we charge your card.
We aim to despatch 90% of our orders within 72 hours. However - with well over 3000 items - especially rare herbs and bespoke wooden items, it is not always possible to supply direct from stock. Where delay is likely - you will be advised as soon as possible.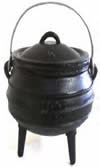 Our products include:
Athames, altar equipment, Book of Shadows, boleens, cauldrons, chalices, diaries and calendars, Egyptian plaques, essential oils, herbs, incenses & magical oils pentacles, potions, robes, scrying mirrors, staffs, stangs, totem animal plaques, wands and lots more!
We welcome your comments and suggestions, or reports of any errors or bugs in the site, please contact
enquiries@witchcraftshop.co.uk