STAFFS & STANGS
---
WE HAVE A GOOD RANGE OF STAFFS & STANGS, PLAIN OR DECORATED

ALWAYS IN STOCK - PLAIN AND ANTLER-TIPPED HAZEL STAFFS, ASH WILLOW or BLACKTHORN STAFFS, HAZEL STANGS & WILLOW

BY REQUEST - YEW, OAK, BEECH, HAWTHORN, AND MANY OTHER TIMBERS IN SMALL NUMBERS.

DUE TO THEIR UNIQUE NATURE, WE DO NOT LIST THEM INDIVIDUALLY - THE GALLERY PICTURE is EXAMPLES ONLY, BUT WE CAN GENERALLY OBTAIN TIMBER TO MATCH YOUR REQUIREMENTS - ALTHOUGH WE MAY BOTH HAVE TO BE A BIT PATIENT!

PLEASE NOTE - DUE TO POST OFFICE RULES, LONG STAFFS (OVER 1.5 METRES) CAN NOW ONLY BE SHIPPED VIA COURIER. WORLDWIDE SHIPPING IS VERY EXPENSIVE AND WE WILL HAVE TO QUOTE YOU EXTRA - IT WILL GENERALLY MORE THAN DOUBLE THE COST OF THE STAFF.

SHORT STAFFS & WALKING STICKS ARE STILL OK TO POST.

IF YOU REQUIRE up to date PICTURES - JUST ASK FOR OUR CURRENT STOCK RANGE AND WE WILL EMAIL THEM TO YOU!
---
1 items found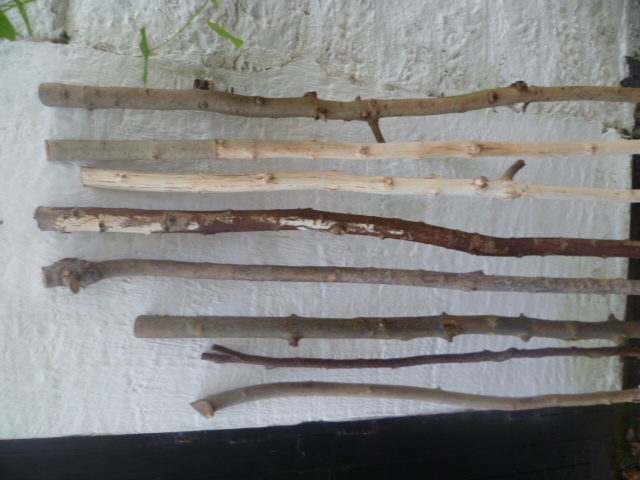 Please contact for current supplies of timbers in stock -

ASH & WILLOW always available - YEW, HAZEL, BLACKTHORN are all generally available - others may be possible on request.

Delivery can take 4 - 6 weeks if we have to prepare your staff.

NB -

DELIVERY COSTS - UK Shipping is included in the price.


US AND OTHER WORLDWIDE DESTINATIONS - PLEASE NOTE THAT DUE TO COURIER LENGTH & SIZE RELATED PRICING, SHIPPING IS LIKELY TO COST AS MUCH AS THE STAFF ITSELF! WE WILL INVOICE YOU FOR THE ADDITIONAL COSTS ONCE CONFIRMED WITH THE COURIER
---