WANDS - GODDESS CARVED
---
THESE WANDS ARE A UNIQUE COMBINATION OF NATURAL DRIFTWOOD AND CRYSTALS SET IN SILVER & COPPER.

EACH WAND IS TOTALLY UNIQUE, WITH A WONDERFUL ORGANIC ENERGY TO THEM.

THEY ARE UNCHARGED, AND IT IS FOR YOU TO IMBUE THEM WITH YOUR OWN ENERGY, BUT THEY ARE VERY POWERFUL SYMBOLS OF THE GODDESS AND QUITE SUPERB FOR ALL RITUAL, HEALING AND JOURNEY WORKINGS ALIKE.
---
1 items found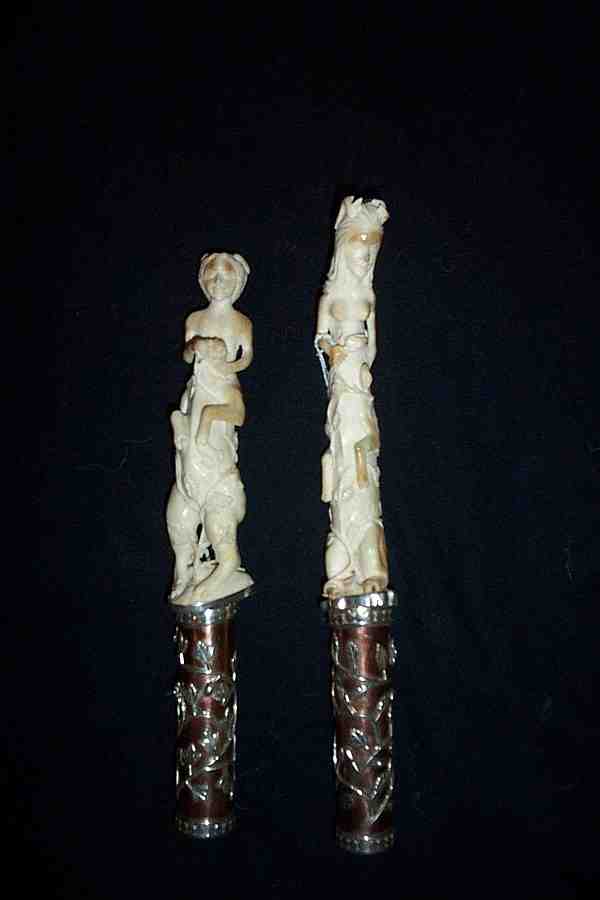 THIS UNIQUE PAIR OF CARVINGS IS QUITE SIMPLY STUNNING, AND WORTH EVERY PENNY OF THE ASKING PRICE.

THEY ARE BOTH APPROX 10 INCHES HIGH, AND THE FIGURES ARE CARVED FROM A MATCHING PAIR OF RED DEER ANTLERS (GUARANTEED FALLEN - NOT CULLED) - BOTH APPROX 6 INCHES.

THE PICTURE CANNOT DO JUSTICE TO THE FINE CARVING DETAILS, WHICH ARE QUITE SIMPLY EXQUISITE.

THEY ARE SET IN A COPPER TUBE, EMBOSSED WITH A THICK 'VINE' OF STERLING SILVER, AND TERMINATED WITH SILVER FIXING RINGS.

THE COPPER IS HOLLOW TO ALLOW THE PIECES TO BE FIXED TO A WAND OR CANE.

THEY WOULD BE IDEAL FOR A HANDFASTING CEREMONY, OR INDEED AS HP & HPS MATCHING SYMBOLS.

THEY CAN EASILY BE FITTED TO WANDS OR STAFFS OF YOUR CHOICE (WE WILL GLADLY DISCUSS THIS WITH YOU), OR YOU MAY WANT THE JOY OF COMPLETING THE WORK YOURSELF.

- CURRENTLY UNAVAILABLE
£834.00
(approx 1001.62

EUR

)
(approx 1135.64

USD

)
This item has limited availability.
Please contact us for more information.
---